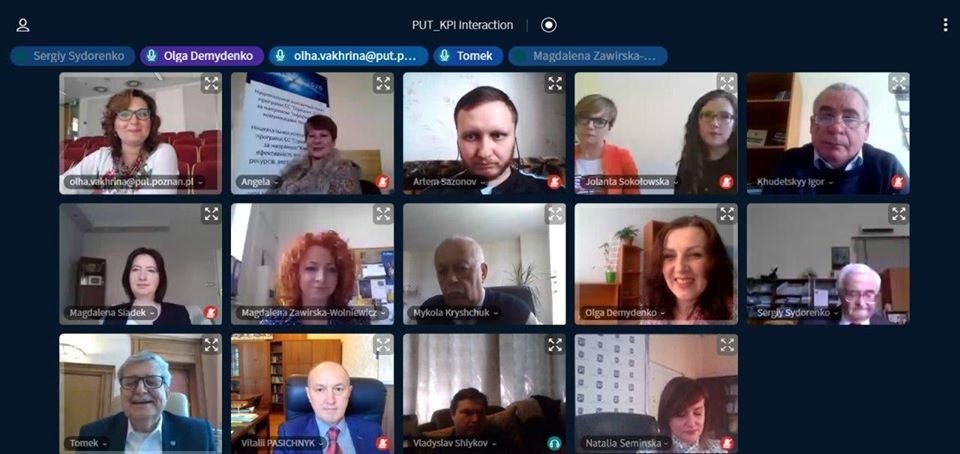 The webinar entitled "Academic Mobility at Igor Sikorsky Kyiv Polytechnic Institute and Poznan University of Technology" took place on June 4, 2020. The event gathered more than 50 professionals.
PUT Rector Prof. Tomasz Lodygowski and Igor Sikorsky KPI Vice-Rector Prof. Sergii Sidorenko greeted warmly the participants.
There has been great enthusiasm and a keen interest for nearly two hours.
Following is the full text of the welcome speech made by Vice-Rector Sergii Sidorenko.
Dear Rector Lodygowski!
Dear Participants!
On behalf of our delegation led by Vitaliy Pasichnyk Vice-Rector for Science, and Nataliia Seminska, Vice-Rector for Studies, allow me to thank you for your attention to the Igor Sikorsky Kyiv Polytechnic Institute (KPI), for the excellent proposal to organize this seminar as a new effort to strengthen our cooperation in academic mobility.
Taking this opportunity, allow me to convey warm feelings from our Rector Acad. Mykhailo Zgurovsky to you all!
We would like to lead our joint work with you to new ideas, to a new stage of cooperation between our universities, to new arrangements for further mutual participation in new projects of NAWA, ERASMUS+ KA 1, Double Diploma, and other international mobility and scientific grant programs.
In my welcome speech I would also like to pay attention to our cooperation in international grant programs for leadership skills.
And, above all, I would like to explain "For What and for Whom?" this is necessary.
It is very important for Igor Sikorsky KPI and Ukraine to mould a new generation of young scientists and teachers who have already been educated on the principles of global, European thinking.
We would like to form – for the future of Ukraine – people of a new European mentality, new ambitions, armed not only with knowledge of specific technical spheres but also with special skills in democratic and economic transformations, and public administration.
These skills are important for a future ruling elite of Ukraine.
We see the development of such skills of Ukrainian students through their participation in relevant international mobility grant programs in conjunction with the Poznan University of Technology that we are to discuss within the framework of our seminar.
And the experience of Poznan University of Technology is very important for us.
This is the answer to the question "For What and for Whom?"
Dear participants!
According to KPI traditions, leadership skills in specific technical areas originated at the end of the nineteenth century.
Currently, these traditions are being developed by the young generation of innovators and entrepreneurs.
For example, Microsoft CEO Steve Ballmer informed us that nowadays 500+ KPI graduates are Microsoft employees.
To maintain these wonderful traditions of skills in science and technology at Igor Sikorsky KPI, the Innovative Ecosystem "Sikorsky Challenge" was formed by:
Startup School Sikorsky Challenge
Festival of Startup Projects "Sikorsky Challenge"
Business Incubator
As far as fundamental studies are concerned, we praise our students as world champions in math and programming.
Training in leadership skills at Igor Sikorsky KPI is also provided through education, particularly the following courses of lectures delivered to all students:
"Fundamentals of Sustainable Development"
"Startup Project Management"
"Hiroshima-Nagasaki: Peace Study Course" that was organized by the Hiroshima Culture Fund
We appreciate very much the outstanding role of the EU grant program "ERASMUS + KA1" and others as the opportunity to join the origins of European mentality.
Another example:
The Ukrainian Center for Gender Education has been operating at Igor Sikorsky KPI for 20 years, thanks to young enthusiasts.
For many years, our University has been the social environment espousing the ideas of gender equality in Ukraine that led to the adoption of Law of Ukraine #2866-IV "On Ensuring Equal Rights and Opportunities for Women and Men" dated September 8, 2005.
Dear participants!
Developing ideas to hone such skills of KPI youth, I would like to underline that we need assistance in establishing cooperation with international mobility grant programs and with relevant universities' programs.
We know that such programs exist:
NATO Science for Peace and Security Programme
Training at the Council of Europe: State Administration
Polish-American Education for Democracy Foundation
RWTH Women in Engineering – Support Women in Engineering
Countries of the Black Sea Region: A View to the Future
U.S. Department of State Leadership Program: State Administration
Reagan-Fazel Scholarship, U.S.A.: Development of Democracy
Chevening British scholarships: Public Administration
Altas Corps: Education for democratic and economic reforms
Many universities have their own programs
And our students get some grants under these programs.
For example, over the last two years the Igor Sikorsky KPI delegation of students, Ph.D. students and young women scientists participated in the European Union International Conference "Perspektywy Women in Tech Summit" in Warsaw, which had a gender orientation and brought us closer to European values.
It is to be wished that the number of our students involved in such programs would increase significantly.
Dear colleagues!
Therefore, we invite all the participants in today's seminar not only to share experience in participating in mobility grant programs, but also to pursue discussions with the aim of reaching new Agreements on joint activities that can be mutually carried out in the near future.
We have started with the Double Master's Degree Program in Mechanical Engineering and now we see new opportunities for many other specialties both in Igor Sikorsky KPI and in Poznan University of Technology.
We will use our best endeavors to promote the further development of our cooperation.
We wish you a successful seminar today!
Thank you for attention!