Welcome to the website of the Ukrainian-Polish center!
"Ukrainian-Polish Center" of the National Technical University of Ukraine "Igor Sikorsky Kyiv Polytechnic Institute" was created according to the «Framework Agreement on the creation of the Polish-Ukrainian Center NTUU "Igor Sikorsky KPI"» on March 7, 2008, between the Polish Educational Foundation "PERSPEKTYWY" represented by its President W. Sivinski and National Technical University of Ukraine "Igor Sikorsky Kyiv Polytechnic Institute" represented by its rector M. Z. Zgurovsky.
---
News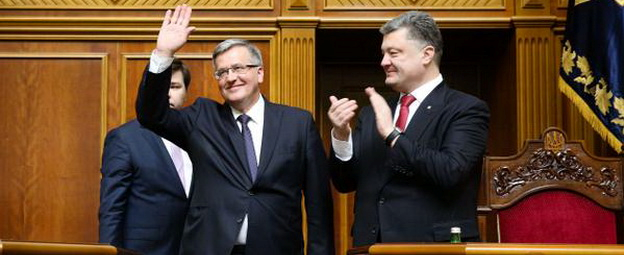 Polish President Bronislaw Komorowski voiced strong support for Ukraine in a speech in the neighboring country's parliament on April 9.
Addressing the Verkhovna Rada in Kyiv, Komorowski said that Poland has "stretched out its hand to Ukraine and is doing everything — and will do everything — so that other states and peoples of the free Western world stretch their hands out to Ukraine as well."
"Poland's stretched hand is not just an indication of the current political trend but our understanding of (more…)
Frederic Chopin: some facts from the life of a genius
The great Polish composer Frederic Chopin was born on March 1 (Feb. 22, Old Style), 1810 near Warsaw. In the village where he lived as a child and where subsequently often spent his summers, Frederic became interested in folk songs and dances. This fascination made a great influence on his work.
Chopin began studying music rather early. When he was only eight years old, he had already toured and had a lot of (more…)
Dear Sirs,
We invite you to participate in the XVIth international scientific and practical conference "Renewable Energy and Energy Efficiency of the XXIst century". It will take place in Kyiv, May 28 – 29th, 2015, Kyiv.
May, 28th – NTUU "KPI" (37 Peremohy ave., Kyiv)
May, 29th – session meetings (room 314, build. No. 20, 37 Politehnichna str., Kyiv).
Department for Renewable Energy and Electric Power Engineering and Automatics Department at NTUU "KPI" Ukrainian-Polish Center for renewable energy technologies improvement and energy efficiency
Invitation form is attached to this e-mail:info@ive.org.ua

The Jagiellonian University, founded in 1364, is the oldest university in Poland and the second oldest university north of the Alps. Located in one of the most beautiful European cities, historic Kraków, the Jagiellonian University offers foreigners a unique opportunity not only to study Polish language, culture and society, but also to experience over 650 years of its history, magnificent architecturet and art. Jagiellonian University School of Polish Language and Culture, part of the Center for Polish Language and Culture in (more…)
May 28-29, 2015, in NTUU "KPI" will be held the International scientific-practical conference "Renewable energy and energy efficiency in the XXI century".
The conference is organized by representatives of Polish Academy of Sciences in Kiev, National technical university of Ukraine "Kyiv polytechnic institute", Institute of Renewable Energy National Academy of Sciences of Ukraine, ISTC of wind energy NAS of Ukraine, UNESCO department "Higher Technical Education, Applied System Analysis and Informatics".
The aim of the Conference is to discuss the problems and development prospects (more…)